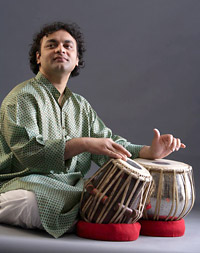 Aneesh Pradhan had a liberal and encouraging familial upbringing, which was coupled with an intensive period of study under the illustrious tabla maestro Nikhil Ghosh. His training with this veritable repository of traditional compositions from the Delhi, Ajrada, Lucknow, Farukhabad and Punjab schools of tabla playing enabled Aneesh to widen his horizons.
Aneesh is today regarded as an accomplished soloist and a perfect foil to vocal and instrumental music or dance recitals. Aneesh remains a keen student of music, despite the acclaim he has received over the years from cognoscenti and general public and by way of awards like the scholarship for advanced training in tabla instituted by the Government of India and the Aditya Birla Kala Kiran Award.
His participation in Indian music recitals and in cross-cultural musical collaborations have taken him on extensive tours within India and overseas. His first solo album distributed by Underscore Records reaches listeners among a host of others, which feature him as accompanist on national and international record labels. Broadcasting and television networks have also recorded him.
Aneesh spent fruitful years as artist-in-residence at the University of New England, Australia, and as guest lecturer at the Music Department, University of Mumbai, and several other universities in other countries. He has put to use the experience he gained as teacher in the many lecture-demonstrations and workshops that he has conducted.
Aneesh continues to enrich his musical persona in his capacity as composer to film, theatre and dance projects. He won the Natyadarpan 'Best Background Score' Award for 1998, for his music to the Marathi play 'Tumbara' directed by Sunil Shanbag.
Endeavouring to understand his position in a historical continuum, Aneesh realised the symbiotic relationship between performance and research. He therefore continues to be a keen student of History, an area in which he was awarded a doctorate.
Baithak Style
Inspirational virtuosi Adrian McNeil (sarod) and Bobby Singh (tabla) form the most respected, experienced and talented North Indian music ensemble in Australia. Now calling Sydney home, both players have studied traditional methods under masters of their respective instruments in India. As soloists and as a duo, they continue to receive critical acclaim throughout Australia and India and around the world. This Febuary they will be performing in India for the first time as a duo!! And bringing their unique sound that they have been cultivating in Australia for the past 20 years for your listening pleasure. This will be a rare chance to hear these two musicians together in performance and also selected master classes where you will get an insight in to the complexities of working in cross cultural ensembles in Australia.